Minecraft: A Timeless Adventure of Blocks and Imagination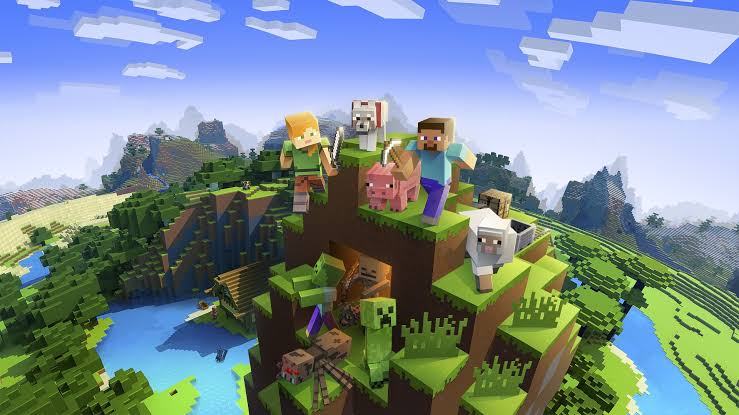 Since its inception over a dee ago, Minecraft has effortlessly cemented itself as one of the most influential and beloved games of all time.
Its pixelated realm of infinite possibilities has captivated players from all walks of life, earning the title of the best-selling video game ever. In this sandbox adventure, players are transported to a realm where creativity knows no bounds, and every block is a canvas for their wildest dreams.
Unleash the Adventurer Within
Minecraft welcomes players with open arms into a vast and procedurally generated world, teeming with breathtaking landscapes and diverse biomes.
From lush forests to arid deserts, icy tundras to sweltering jungles, there's a terrain to captivate every soul. As the sun rises and sets, players find themselves on a constant quest for survival, gathering resources, and crafting essential tools to defend against the nocturnal terrors lurking in the darkness.
The gameplay mechanics in Minecraft go beyond survival instincts. They pave the way for players to embrace their inner architect and artist through the ever-popular Creative Mode.
Imagine a limitless expanse where blocks of all shapes, sizes, and colors await at your fingertips. From towering castles to underwater cities, players have crafted awe-inspiring structures that defy gravity and reality itself.
The Artistic Symphony of Pixels and Sound
Minecraft's iconic pixelated art style is nothing short of endearing. Though seemingly simplistic, it magically transports players into a world where imagination reigns supreme.
The clever use of blocky textures encourages players to envision landscapes and characters, akin to virtual Lego bricks.
READ ALSO: HOW TO MAKE YOUR EMPLOYEES SAY WTF TO YOU AFTER WORK
Accompanying this visual delight is a carefully curated soundscape that heightens the gaming experience.
The soft rustling of leaves in a forest, the gentle splashing of waves on the shore, and the eerie calls of creatures during the night all contribute to a mesmerizing ambiance that draws players into the game's heart.
The Boundless World of Multiplayer and Community
While the solitary journey through the vastness of Minecraft is an adventure of its own, the game's multiplayer options elevate it to new heights.
Players can collaborate on grand projects, embark on daring expeditions, and compete in friendly challenges that bring the community together like never before.
Servers and realms provide endless opportunities to connect with like-minded players from across the globe, celebrating the diversity and creativity that thrive within the Minecraft universe.
Beyond the game itself, the Minecraft community remains a vibrant hub of ingenuity. From ingenious mods that add new dimensions to the game, to custom maps that test players' limits, creativity knows no boundaries.
READ ALSO: Expert Copywriting Secrets From Professionals
This communal spirit fuels the longevity of Minecraft, as each creation becomes an inspiration for the next generation of adventurers.
A Journey without End
One of Minecraft's remarkable feats lies in its enduring popularity, transcending the boundaries of time and generation.
Unlike many games that shine brightly and fade away, Minecraft continues to captivate players of all ages.
From curious youngsters delving into their first virtual worlds to seasoned gamers seeking solace and inspiration, Minecraft has become an experience that stands the test of time.
Much of this success can be attributed to the diligent support and regular updates from the brilliant minds at Mojang Studios.
They infuse the game with fresh content and innovative features that keep players hungry for more. Each update is a testament to the developer's commitment to their fanbase, ensuring the game remains as engaging as ever.
In Conclusion: The Blocks That Built Our Hearts
In a world of ever-changing trends and fleeting fads, Minecraft stands tall as an eternal monument to creativity and adventure.
Its magnetic charm, encapsulated in blocks and pixels, has united millions of players worldwide in a virtual odyssey of boundless possibilities.
Whether you're a seasoned explorer or a newcomer eager to embark on your journey, Minecraft promises an experience that transcends time and space.
So pick up your pickaxe, don your trusty armor, and venture forth into the universe of Minecraft.
Embrace the realm where blocks and imagination collide, and let your creativity soar to unprecedented heights.
The adventure of a lifetime awaits – a journey that will forever be etched in the annals of gaming history. See you in the world of Minecraft!
Disclaimer: The above article may cause an uncontrollable urge to build and explore. We advise keeping a pickaxe and blocks within arm's reach at all times.