How Technology Can Reform The Nigerian Police Force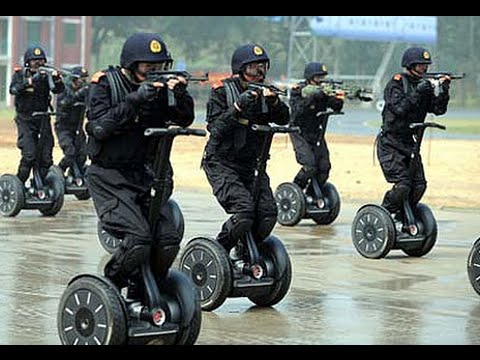 Technology and policing have been interconnected for decades, dating back to the advent of the telephone, the automobile, and the two-way radio.
Today, technology seems to be advancing at an ever-accelerating pace, as seen through the propagation of mobile and wireless technology, high-powered computing, visual and audio technology, advanced analytics, and other technological advancements.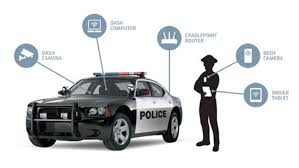 Many departments are implementing these and other technologies to increase efficiency and to improve outcomes, especially in times of diminished resources and enhanced public attention to and scrutiny of law enforcement tactics and outcomes.
Don't Miss Out: Join our Facebook Group for funny and motivational quotes
However, much remains unknown about the prevalence and utility of technology among the nation's law enforcement agencies (LEAs).
The following summarizes recommendations for developing a more successful national model for technology implementation in today's law enforcement community.
Apply Now: Customer Service Representatives Needed at GIG Logistics
Evidence-based research is needed in policing technology. Our research suggests that there needs to be greater emphasis on evidence-based, informed decision-making about new technology.
Strategic planning should include technology considerations. The strategic planning process appears to be severely overlooked in many agencies despite being integral to the success or failure of a technology.
Decision-makers and technology experts should better collaborate on technology decisions. Many technologies are not broadly deployed in an agency, which can result in diverse problems in terms of buy-in and organizational impact.
Past experience with technology contributes to future behavior. Each agency and its community context are unique and there is often a heavy emphasis placed on each agency's own historical performance of technology identification, acquisition, and implementation.
Have you read: How To Make Customers Create Addiction For Your Product?
Technology
Based on pure research of how developed countries have made use of technology to advance their own security system, the following are recommended:
Car cameras and computers:
Also known as dashboard cameras, car cameras that provide video evidence for calls for service and are typically attached to the interior windshield or to the top of the dashboard in a police vehicle.
Apply Now: 5 Graduate Trainee Job Opportunities at QuickAir Aviation Service
This would at least increase agency accountability, improved community perceptions, and enhanced officer-related behaviors (i.e., professionalism). It would also stop men of forces from carrying official vehicles to hotels and bar clubs for private purposes.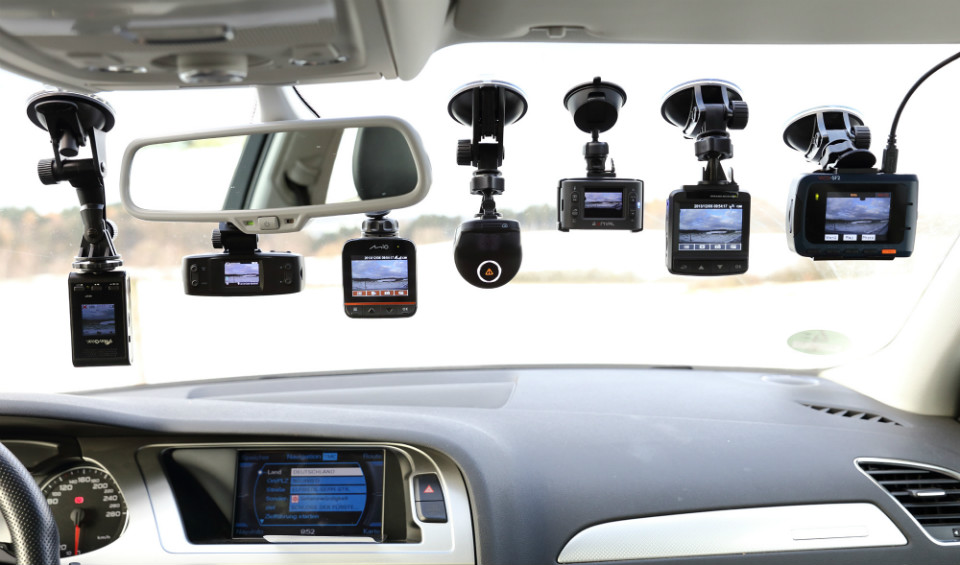 I must also include; the agencies should not also be allowed to move in unofficial vehicles or public transport except under permitted conditions.
Information-sharing platforms (Social media):
Common types of social media include Facebook, Twitter, Pinterest, and YouTube have been highlighted for building trusting relationships between police and the local community because social media can establish a forum for open communication.
Department can also use social media to post crime prevention tips, community-related news, issues related to pedestrian and motorist safety, and information about weather or traffic-related emergencies.
License Plate Readers (LPRs):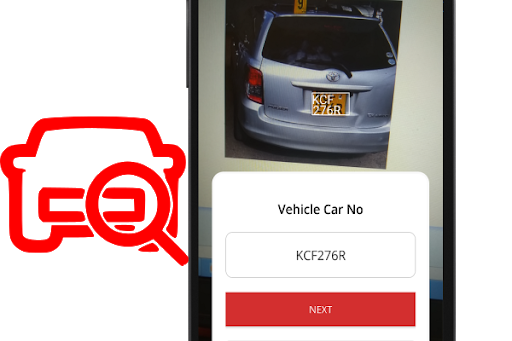 A type of surveillance technology mounted on police vehicles or on stationary objects (e.g., bridges) that use small, high-speed cameras to photograph license plates of passing motorists.
LPRs had enabled them to increase stolen-vehicle recoveries, and 55% reported that automobile theft-related arrests had increased.
Data mining tools: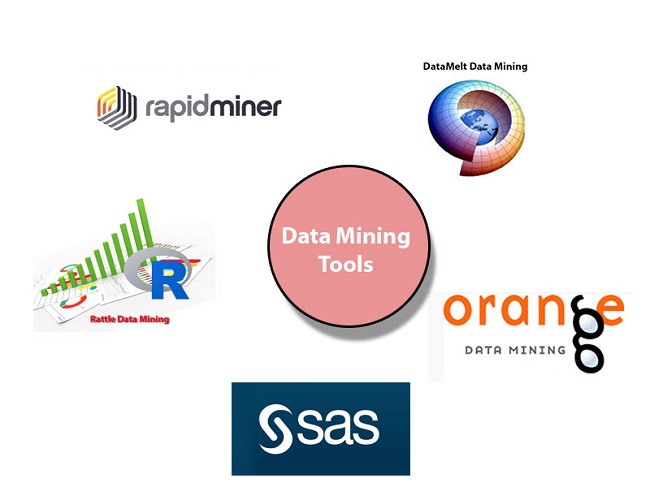 Also known as data discovery tools, data mining tools are typically software packages or applications that allow users to process, analyze, and summarize various types of data.
Crime analysts may use specialized data mining software to mine text data, visualize crime networks, identify possible suspects, or recognize crime patterns and characteristics associated with them to guide the deployment of officers.
Crime data can also be merged with other forms of external data, such as traffic or weather information, and analyzed to identify complex relationships between multiple variables.
Crime mapping Software: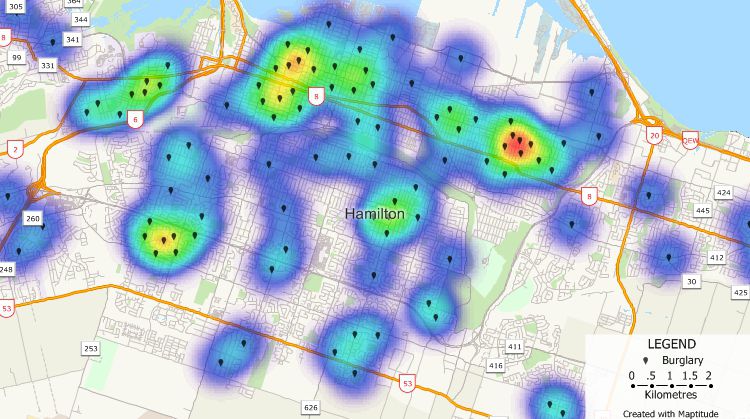 Crime mapping Software
Software or applications used by law enforcement to map, visualize, and analyze crime incidents.
Computerized crime mapping software via GIS is used by police agencies to map, visualize, and analyze the quality of life complaints, crime patterns over space and time, and paths to crime displaying distances between events within an incident.
Using GIS, departments can identify clusters of crime incidents or types (i.e., hot spots and habitats), generate graphic displays of crime incidents for officers or the community, and identify other patterns of local crime activity that may ultimately help inform the allocation and deployment of officers into the field
Body-worn cameras (BWC)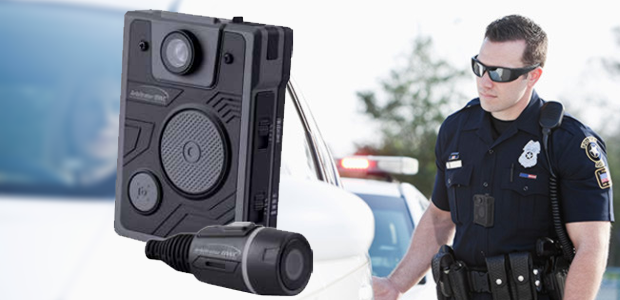 A video recording system worn by police officers to record their interactions with members of the public and to accumulate video evidence for calls-for-service.
Others are:
CCTV with video content analysis
Gun/contraband and acoustic detection
Geographic information system technology (GIS),
Cell phone tracking software
Records management systems (RMS)
Mobile biometric devices
Automated traffic enforcement (e.g., red-light cameras, speed enforcement)
UAVs (drones)
Through-wall surveillance
Ballistics/firearm tracing technology
Global positioning system (GPS) tracking of suspects
2D/3D crime-scene imaging technology
Computer forensic technology
Voice-to-text application within mobile devices
In-car electronic ticketing system (e.g., ETIX systems)
Regional interoperable radio systems
Directed-energy vehicle-stopping device
Gun cameras/Taser cameras
Reflective gear
Night-vision gear
The following though not technological innovations but policies that should also e adopted for better Operating Security agencies in Nigeria
Remove barriers to reporting police misconduct
We need to build the knowledge base of why and how police select, implement and integrate new technology;
Ban police officers from taking cell phones or other recording devices without a person's consent or warrant and give people the right to sue police departments if they take or destroy these devices
Invest in Rigorous and Sustained Training
End police department quotas for tickets and arrests
Limit fines and fees for low-income people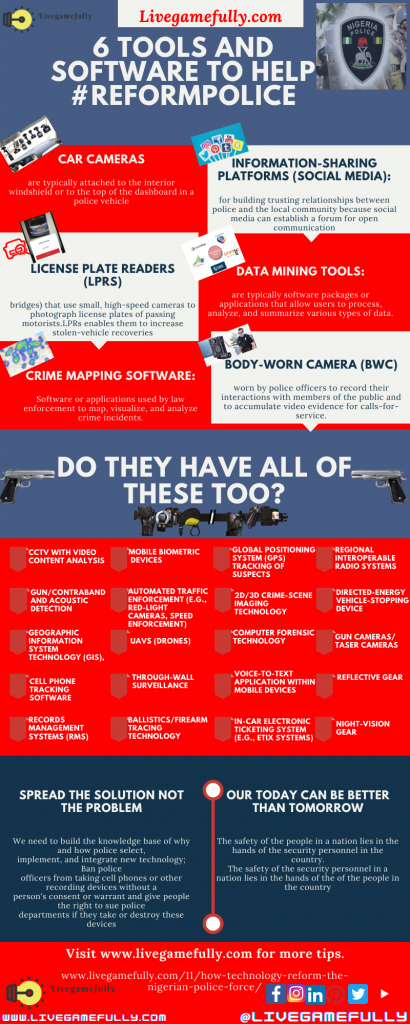 Conclusion
According to Schuck (2015), the adoption of technology can be understood as a complex interaction between several factors, including characteristics of the technology, organizational culture, and features of the larger social-structural environment.
Undoubtedly, the youth are the engines behind thrive technological countries, it is imperative that government start partnering with private agencies, technological innovation hubs and universities to produce gadgets that would fit in for her citizens instead of importing expensive and hard to maintain equipment unfit for her citizen.
References
Kevin S. (2016). Research on the Impact of Technology on Policing Strategy in the 21st Century Final Report Prepared for Brett Chapman National Institute of Justice. Final Report NIJ Grant Number 2012-MU-CX-0043 RTI Project Number 0213507.000.003
Schuck, A. (2015). Prevalence and predictors of surveillance cameras in law enforcement: The importance of stakeholders and community factors. Criminal Justice Policy Review, 1–20.DOI: 10.1177/0887403415570631
Place your comments below, feel free to share your thoughts and ideas on this topic.
Thank you for your time reading through.
How To Increase your productivity at work using easy infamous techniques